Bug-zapper Guitar Hero Controller
2006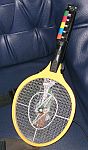 Just before Christmas (the night before?) 2006 my sister in-law asked me what I might like for a present. I requested a DualShock-like controller and Guitar Hero II for the Playstation 2 so that I could build my own Guitar Hero controller.
After Christmas day I spent some time looking around for a toy guitar that I could hack but didn't see anything suitable. I then remembered that during my childhood I would sometimes leap about the lounge room with the stereo turned up while pretending to play guitar with a tennis racket.
Bug-zapping Tennis Rackets
Now in Thailand they not only have tennis rackets but they also have high-voltage bug-zappers that look like tennis rackets. They are great for chasing down potentially life threatening mosquitos (using one is clearly a case of self denfence) which disappear in a bright blue flash accompanied by a satisfyingly loud bang. While swinging the "racket" through the air you hold down a button on the handle which energises the mesh and a small red LED lights up to let you know that your holding something very dangerous in your hands (see the red-arrows on the image below).
DIY Guitar Hero Controllers
You can now find a huge variety of DIY Guitar Hero controllers on the net made from LEGO, real guitars, and erector sets and even Guitar Hero playing robots. Given my fond childhood memories, the tennis-racket-esque (and therefore guitar-like) shape of the bug-zappers, their ready availability and low cost I decide to use a bug-zapper for the body of my Guitar Hero controller.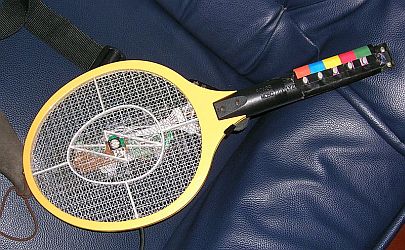 I purchased a racket with a groovy lightning-bolt motif and started by gutting the handle and removing the existing electronics. Despite being powered by only two 'AA' batteries it delivers a surprisingly large kick - although at a very low current.
I also removed the circuit board from the DualShock controller and de-soldered the rumble motors and Right analogue joystick. The printed circuit board (PCB) has what appear to be small test-pads located near each of the buttons and I soldered wires for my guitar directly onto these pads using the mapping in the table below.

| DualShock | Guitar Hero Controller |
| --- | --- |
| L2 Button | Green Button |
| L1 Button | Red Button |
| R1 Button | Yellow Button |
| R2 Button | Blue Button |
| ( X ) Button | Orange Button |
| Start Button | Select Button |
| ( /\ ) Button | Back Button |
| Select Button | Star Power |
| Left Joystick | Whammy Bar + Up/Down |
(Some time after my guitar was completed I found out that shorting the Left D-pad button makes the game think that you are using a Guitar controller. The Up and Down D-pad buttons can then be used to strum.)
The fretboard buttons were connected to the DualShock PCB using some multi-pin connectors and wiring from a faulty DVD player (I like to keep a few broken things around for just such an emergency). I used two small tact switches for "select" and "back" and these were mounted using hot-melt glue at the base of the guitar's neck.

Using some side-cutters I carefully cut through the mosquito-frying mesh to make a hole just large enough for the left joystick and hot-melt glued the board in place. Then by trimming the mushroom off the top of the thumb stick and carefully cutting a vertical slot I was able to mount a plectrum in the top of the joystick. A small screw through the shaft held the plectrum in place. It was a novel touch but a little confusing because the joystick acts as the whammy bar when you play Guitar Hero with a DualShock controller!
The rest of the DualShock PCB was housed in one-half of a project box which was also glued to the back of the mesh. A cable tie secured the controller lead to help prevent any stress on the connections during wild guitar solos and I added two guitar strap buttons (real buttons for attaching a guitar strap - not push buttons in this case) at the back of the neck and the top of the "racket head".
The guitar was nearly ready to rock but we still needed a rockstar-like way to activate star power. Having to push a button just wouldn't cut it.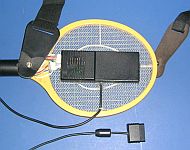 Mercury Switches
In the 1987 movie
Lethal Weapon
, Mel Gibson's character realises that they are dealing with professionals because they used mercury switches. For those of you without photographic memories here's the
scene
:
Martin Riggs is examining a twisted hunk of metal as Murtaugh walks up beside him.
MURTAUGH:
What'cha got?
RIGGS:
Part of the device.
(beat)
Holy cow.
MURTAUGH:
What?
RIGGS:
Artwork. This is @!#%$ artwork.
MURTAUGH:
Swell. I'm glad you liked it.
RIGGS:
You don't understand. This is real pro stuff. Haven't seen this since... well, since the war.
MURTAUGH:
Come again?
RIGGS:
C.I.A. used to hire mercs who used this same setup. Mercury switches.
That's right folks - mercury switches. I wanted to be a professional and I also needed some sort of tilt switch in the guitar to activite star power so I went looking for a mercury switch. Having only been in the country for about six months at that stage my Thai wasn't very good. At the local electronics store I spent some time trying to explain what I was looking for and after many drawings of thermometers and attempts to look like Mel Gibson they told me that they didn't have any mercury switches. Feeling somewhat disappointed I thanked them for their time but as I turned to leave the store I saw this: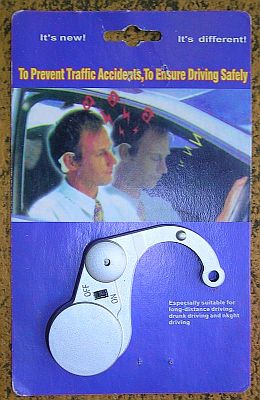 It's a small device that you fit over your ear while driving. Should your head fall forward it then emits an ear piercing beep that causes you to wake up while simultaneously deafening you.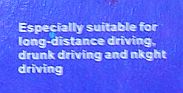 The blurb on the front says that this hearing destruction machine is "Especially suitable for long-distance driving, drunk driving and nkght [night] driving" and the back of the packaging refers to it as the "Cure Sleepiness Right Away" which I think is a very catchy name. There was obviously some sort of tilt-sensing mechanism inside and sure enough when I opened the case what I saw was artwork - there was a mercury switch inside. Now we were ready to rock.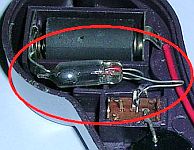 At first my son was a little reluctant to try the guitar because he was afraid of being zapped. Hmm... perhaps I should have left the high-voltage electronics intact and the guitar could be used for operant conditioning. If B.B. King's guitar is called "Lucille" then an appropriate nickname for this guitar might be "Frank", "Dweezil" or perhaps even "Moon Unit".

Three Generations of Buttons
While making the guitar I was surprised at how difficult it was to find appropriate buttons - in fact the guitar has now been through three different generations of buttons.
Mark I
I found these beautiful looking buttons at the same electronics store that sold the succinctly named "Cure Sleepiness Right Away" and thought they would be perfect for this hack. They were sold in pairs, were of a reasonable size, and came in a range of fashion colours which just about covered the Guitar Hero rainbow - except for orange. I bought a pair of white buttons which I planned to paint orange.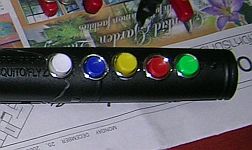 Unfortunately these buttons were very unreliable - even if you applied finger-straining levels of pressure - which made for a very unsatisfying and frustrating Guitar Hero experience. Hence the mark II version...

Mark II
These were some tact switches - scavenged from the control panel of the DVD player that also provided the wiring looms and connectors - which I mounted on some prototype board. They worked reliably but unfortunately were quite small - which was fine for the "Select" and "Back" buttons but not for the actual fretboard.
To increase the surface are of the buttons I cut the bases off some plastic Clorets containers and duct-taped them in place over the buttons. Again I though about using different colours for each of the buttons but they only come in three or so flavours and so I stuck with "cool mint" green.
The buttons worked surprisingly well but after a lot of play (over a period of days) the tape would slip and you would again experience the frustration of pressing a key in the middle of a screaming solo only to miss the note through no fault of your own. Actually I guess it was my fault because that's how I'd made the guitar - hence the mark III version...

Mark III
At what was fast becoming my favourite electronics store (there aren't actually that many to choose form here) I found three TV remote controls for a total of $1. The buttons weren't as large as I would like but the spacing of every second button was the right distance for the note buttons on my guitar's fretboard. It also turned out that the PCBs in the remotes were the same width as the neck of my guitar - although no single board was going to be long enough for all five buttons.
In the end I used pieces of all three boards and simply cut off the surplus buttons. Some hot-melt glue secured the three seperate button boards onto a supporting piece of plastic and once wired, the assembly was attached to the neck using more hot-melt glue and duct tape. Smaller coloured pieces of tape were added to indicate the button colours.

Although the mark III buttons are small they work very well. Here are some pictures of the guitar in action with some Thai university students rocking out when the original plectrum whammy bar was still attached (left) and at our 2007 Christmas party (right). The rear projection screen in the right hand side image is a clothes stand (the blue arches) with some paper draped over it and a length of the ubiquitous blue PVC water-pipe for some weight. The screen also works well for playing Eye-Toy and you can see the camera taped into the top of the screen. Rock on!

Other Projects
You may also be interested in reading about my multiplayer Guitar Hero hack or some of my other projects:
| | | | | | |
| --- | --- | --- | --- | --- | --- |
| Bug-zapper Guitar Hero Controller | | | | | |
| Asteroids Cabinet Fish Tank | | | | | |
| Hovercraft | | | | | |
| Wooden DDR Mat | | | | | |
| Everyday uses for PVC water pipe | | | | | |
| PVC Water Pipe Tron Controller | | | | | |
| PVC Racing Cars | | | | | |
| Virtual Pinball | | | | | |
| Halo Motorbike Helmet | | | | | |
| Multiplayer Guitar Hero | | | | | |
| Bamboo Racing Cars | | | | | |
| REAL-Tron | | | | | |
| Terminator Xeyes | | | | | |
| Plasma Pong Table | | | | | |
| Voting Machine | | | | | |
| Blossom Motorbike Helmet | | | | | |
| Coffee Grinder Puzzle Bobble | | | | | |
| TRON Handheld POV Display | | | | | |
| Countertop MAME Arcade Cabinet | | | | | |
| Lollybot | | | | | |
| Payap Pinball Machine | | | | | |
| Spacewar! Controllers | | | | | |
| Gundam Motorcycle Helmet | | | | | |
| Mega Game & Watch Octopus | | | | | |