Web Kiosk Online Keyboard
Circa 1999
This was another one of those quick projects you work on while you should actually be working on your PhD. On campus at Griffith University they had a number of web kiosks which were simply a PC locked in a box with a monitor, a web-browser and a mouse - but no keyboard. The idea was that you could use the mouse to click on links within the university intranet but you couldn't use it to surf the web. At least that was the idea...
From the university's homepage you could access a list of schools and departments. From our school you could access a list of research groups and from our research group page you could access my homepage - all just by following links.
I hacked up a simple Java keyboard applet that could be accessed from an invisible GIF image on my publications page (can you find it out without cheating and looking at the page source?). You could use the mouse to type in any URL you wanted and the world was your proverbial oyster.
If you don't want to hunt for the hidden image you can just click on the image below to try the keyboard.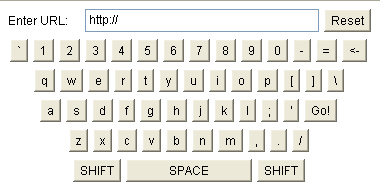 If your looking for a virtual keyboard in your preferred language Google have now integrated them into Google search

Other Projects
You may also be interested in reading about some of my other projects:
| | | | | | |
| --- | --- | --- | --- | --- | --- |
| Web Kiosk Online Keyboard | | | | | |
| Asteroids Cabinet Fish Tank | | | | | |
| Spiritual Gifts Applet | | | | | |
| Hovercraft | | | | | |
| Wooden DDR Mat | | | | | |
| Everyday uses for PVC water pipe | | | | | |
| Bug-zapper Guitar Hero Controller | | | | | |
| PVC Water Pipe Tron Controller | | | | | |
| PVC Racing Cars | | | | | |
| Virtual Pinball | | | | | |
| Halo Motorbike Helmet | | | | | |
| Multiplayer Guitar Hero | | | | | |
| Bamboo Racing Cars | | | | | |
| REAL-Tron | | | | | |
| Terminator Xeyes | | | | | |
| Plasma Pong Table | | | | | |
| Voting Machine | | | | | |
| Blossom Motorbike Helmet | | | | | |
| Coffee Grinder Puzzle Bobble | | | | | |
| Stormtrooper Motorbike Helmet | | | | | |
| Tron Handheld POV Display | | | | | |
| Countertop MAME Arcade Cabinet | | | | | |
| Lollybot | | | | | |
| Payap Pinball Machine | | | | | |
| Spacewar! Controllers | | | | | |