Arcade Cabinet Fish Tank
1990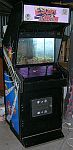 While on my way to work one day back in 1990 I noticed a stripped Asteroids arcade machine sitting in the yard of a video game and juke-box hire company. I took note of the business name and upon arriving at work I gave them a call and asked if I could buy the cabinet off them. I didn't actually know what I was going to do with it but I had to have that cabinet. They agreed to sell it to me for $20 and so I called my brother who arranged a trailer and we picked it up during my lunch hour. Had I not done so it may have suffered a fate similar to this poor cabinet:

The cabinet itself was in good condition but the coin mechanism, marquee and controls were missing. I intially thought about turning it into a cupboard or a dressing table before deciding that a fish-tank would be cool. I bought some second-hand joysticks, buttons and a coin door (but no mechanism) and modified the bottom of the cabinet so it could be used as a games cupboard.
I modified the space where the monitor normally sits and added a shelf to support the fish tank with enough room underneath to store the air pump and fish food. A local aquarium shop built a custom tank which was mirrored on three sides and fit perfectly into the space.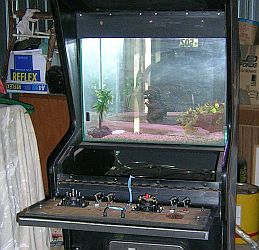 Along with the tasteful plastic palm trees, gravel and rocks in the tank, I also wanted something Godzilla-esque to terrorise its inhabitants. Fortunately, a year earlier Pizza Hut held a promotion for the animated movie "The Land Before Time" (directed by the former Disney animator Don Bluth - famous for creating the Dragon's Lair and Space Ace LaserDisc video games) which involved vinyl hand-puppets of characters from the movie. One of the characters - "Sharptooth" - was just the right size to fit in my tank and also looke sufficiently Godzilla-like. You can see the puppet in action in this advertisment from the original promotion (and the puppets are still available on eBay!):
After obtaining a Sharptooth puppet, I drilled out his nostrils, weighed down his feet and tail with rocks, and diverted some air from the pump so that air bubbled out through his nose. The air-pump was wired to the player one button and I hooked a Gro-Lux flourescent lamp up to player two. I painted the top interior of the cabinet white to help reflect the light into the tank and the lamp was also bright enough to light the marquee.
A signwriter quoted me in excess of $100 to get a beautiful marquee printed so I opted to make one myself instead. Armed with a computer games magazine that featured an article on the making of the game "Escape from the Planet of the Robot Monsters" I blew up some images from the article on a colour photocopier and sandwiched these between two pieces of acrylic - one white and one clear. The resulting marquee was a little plain but looked good when lit from behind and helped continue the B-grade monster movie feel.

DUKE: Destroy the evil Reptilons!
JAKE: The fate of the world is in your hands!

A number of years after making the tank we rented out our house to some rather problematic tenants. They stopped paying rent and after they finally left the property we found that they had removed the fish-tank from the cabinet and had been trying to use the Gro-Lux lamp to grow marijuana! They also took my large, framed, landscape version of this Dick Tracy poster. I was not happy.
The photos above were taken in 2006 right before I sold the cabinet on eBay. I got less than I hoped for it but the lucky highest bidder was a guy who collects and restores arcade games and he was going to turn it back into a working Asteroids machine. I'm happy that it went to a good home and at least I still have the Gyruss cocktail machine that my wife bought me as a wedding present.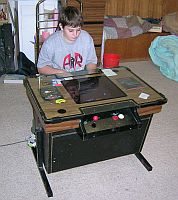 Other Projects
You may also be interested in reading about some other game related projects:
| | | | | | |
| --- | --- | --- | --- | --- | --- |
| Asteroids Cabinet Fish Tank | | | | | |
| Wooden DDR Mat | | | | | |
| Everyday uses for PVC water pipe | | | | | |
| Bug-zapper Guitar Hero Controller | | | | | |
| PVC Water Pipe Tron Controller | | | | | |
| PVC Racing Cars | | | | | |
| Virtual Pinball | | | | | |
| Halo Motorbike Helmet | | | | | |
| Multiplayer Guitar Hero | | | | | |
| REAL-Tron | | | | | |
| Plasma Pong Table | | | | | |
| Voting Machine | | | | | |
| Blossom Motorbike Helmet | | | | | |
| Coffee Grinder Puzzle Bobble | | | | | |
| Stormtrooper Motorbike Helmet | | | | | |
| TRON Handheld POV Display | | | | | |
| Countertop MAME Arcade Cabinet | | | | | |
| Lollybot | | | | | |
| Payap Pinball Machine | | | | | |
| Spacewar! Controllers | | | | | |
| Gundam Motorcycle Helmet | | | | | |
| Mega Game & Watch Octopus | | | | | |